Welcome to our new website! To make the transition from our old website to our new one as simple as possible, here's a quick tour showing you how to sign up for one of our leagues.
Step 1: Home Page
Visit out home page @ koalakickball.com.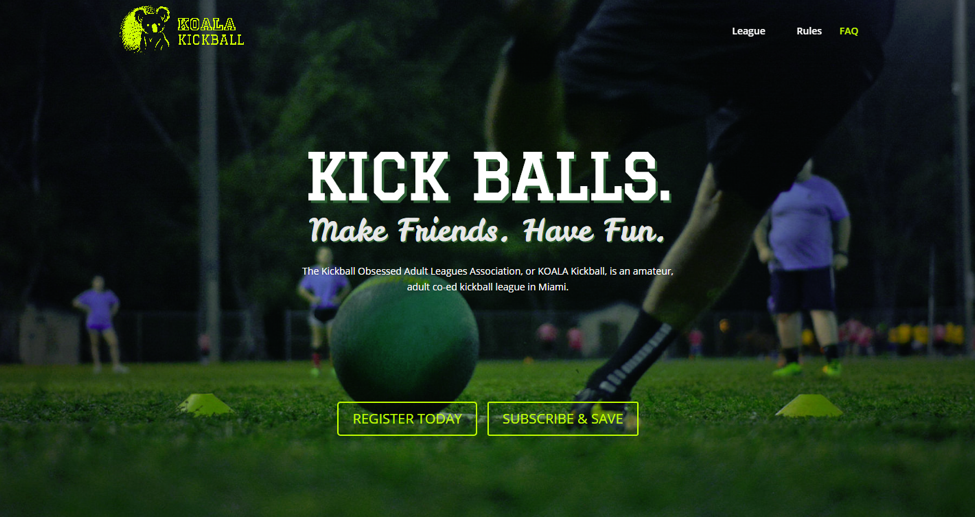 Step 2: Choose a League
Scroll down and choose which one of our leagues you would like to sign up for.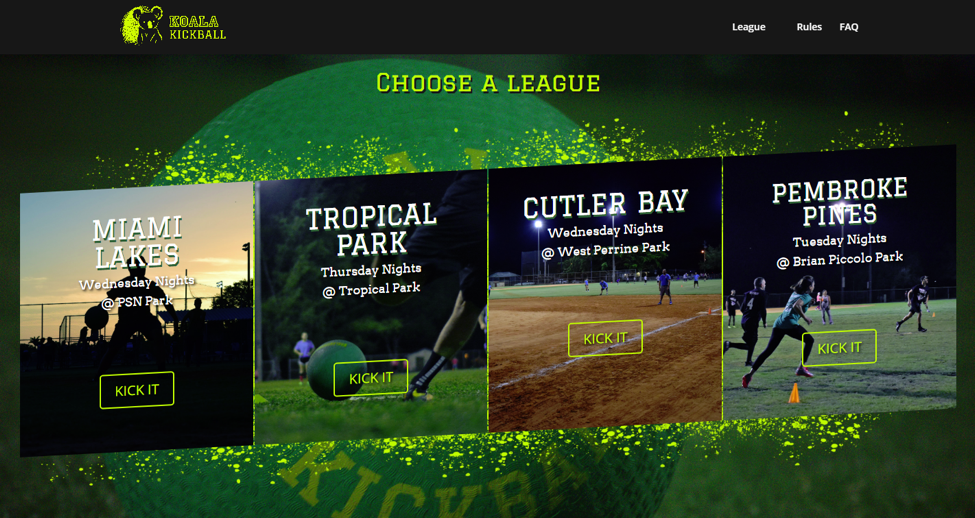 Step 3: Register for a Membership or Single Season
Scroll down on the league page and choose to become a member or select a single season registration.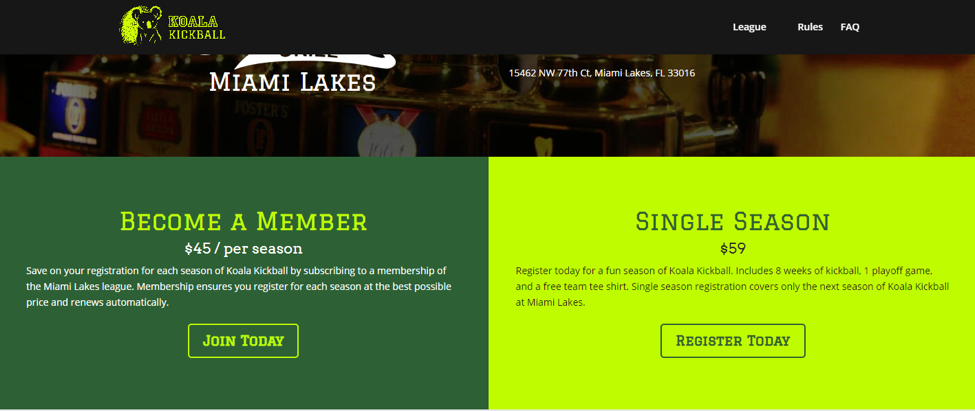 Membership
Interested in locking in our best possible price every season for that league and not worrying about having to sign up each time? Subscribe to become a league member and don't worry about the season to season hassle of signing up and paying – for as long as you choose to remain a subscribed member, you're locked in to our $45/season pass while also enjoying member perks and merchandise discounts. And if you choose to take a season off from playing, just unsubscribe before our announced automatic renewal deadlines.
Single Season Registration
If you're interested in signing up for a single season of fun at Koala Kickball, select single season registration. At just $59 per season, you'll be playing kickball at the best value in all of South Florida.
Step 4: Review your Order
Review your order and click "Proceed to checkout" to complete your registration.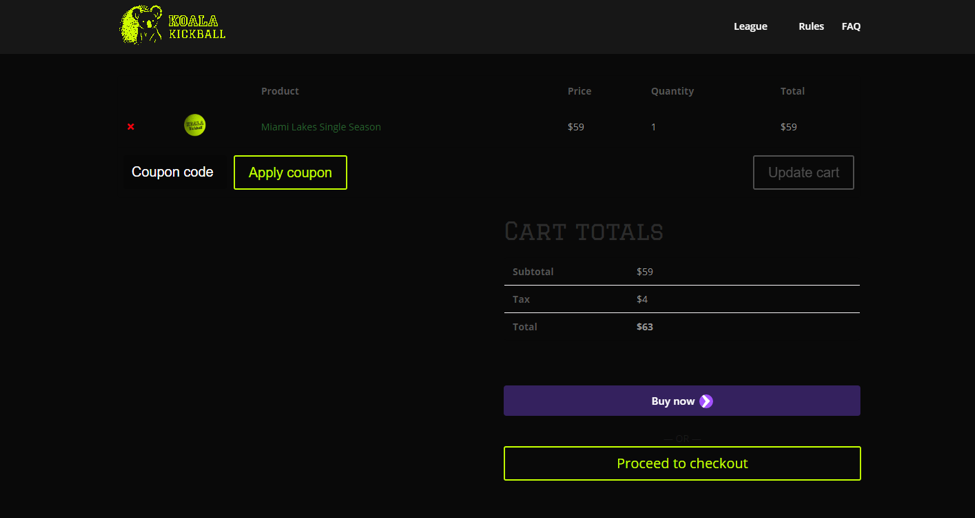 Step 5: Checkout
Fill out your billing information.
The first time you checkout on the new website, you'll be asked to create your own unique, special account to Koala Kickball. Use your email address and creating your own account password (note: you will have the option of storing your credit card on your account with us; no one at Koala Kickball will have access to your credit card information, as it will be saved in an encrypted file with our merchant provider).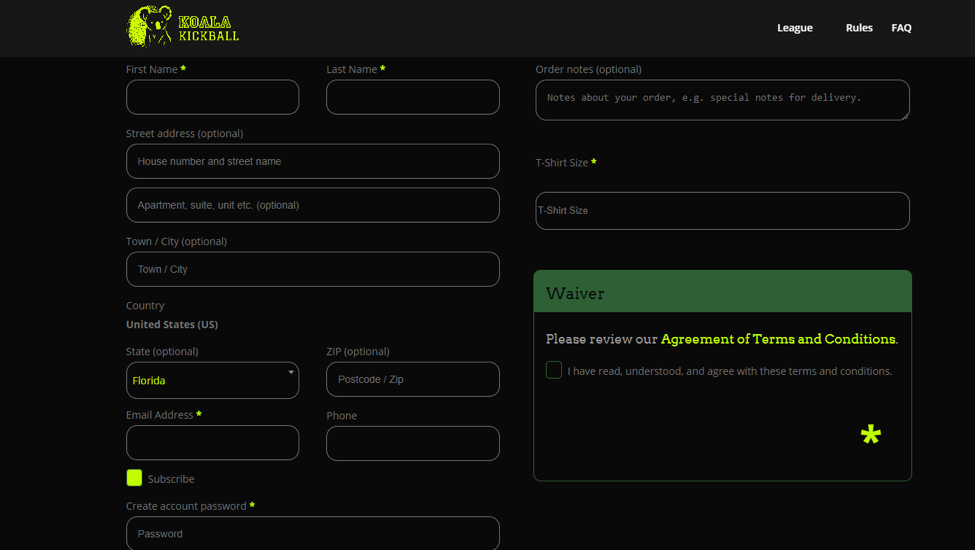 Make sure to agree to our waiver on the right AND our terms and conditions at the bottom of the page.
Step 6: Confirmation Email
Check your confirmation email for verification of your registration and payment for your season at Koala Kickball.
Click "Click Here To Join Or Create a Team" to, um, join or create a team.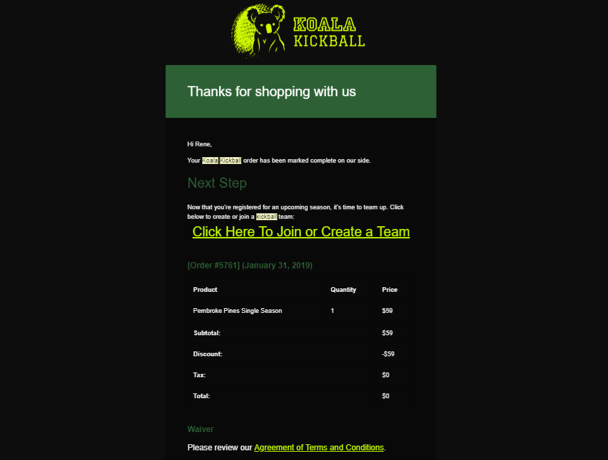 Step 7: Join or Create a Team
Choose whether to create a new team (if you're the team captain) or join a team already created by a team captain.
If you're joining a team, scroll through the teams registered for the current season and select for the team you want to register for. If you're registering as a free agent, join the Free Agent team and we'll help place you on an existing team.
That's It!
Now you know how to register and join one of our leagues, and how to create your own team. Every member of a team will automatically have access to see who has signed up and registered on their team. Also, if you're a team captain, you'll have the ability to change the profile picture and the cover picture of your team page.
Koala Kickball Gear
Check out our apparel store to get your favorite Koala Kickball merchandise by going to www.koalakickball.com/gear! Some of our gear is available in different colors. Orders of $50 or more ship Free.
MyKoala Account
You can customize your myKoala account by going to www.koalakickball.com/mykoala. Change your profile picture, username, and more. There, you can also review your orders, update your shipping addresses, and, with your own account, you'll also be able to comment on our posts.