By: Jeff Papalote
Papalote and Mando from Kickball here! So let's start by saying thanks to all of our sponsors, parks, and to all of you for joining us for another season (or quite possibly your first season). What I (Papalote) will be doing is a weekly Commissioner Poll to talk about the top teams around all of our leagues (Lakes, Pines, Tropical, and Cutler). This week, I will be speaking this week about Lakes, Pines and Cutler who have started their seasons (since Tropical hasn't yet been able to start). This poll is decided by the commissioners of all leagues coming together and voting on who should be the Top 1-10 on our list. You think your teams got what it takes to be considered our best in all league season? Show up and prove to us that you are a top dog. Here we go with our top 10!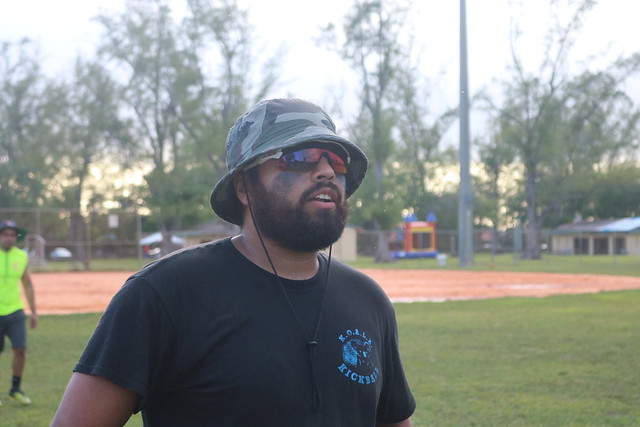 Honorable Mentions:Sh!ts & Giggs (Miami Lakes)Scared KicklessBig Kick Bandits
Bajanda (Miami Lakes) – A team of some young athletic players who have a chip on their shoulder! Although they changed names, this is a team who's coming back from a tough season, but now they are coming out to a great start! 2-0 against two tough B division teams! Guido has to keep the squad hungry for more wins and it should be a great season for them!


Tacooo Tuesday (Pines): The name already tells you this is a fun team, but don't let that fool you; they have a veteran team with some fresh new faces, and plan on causing some chaos in a Pines league with some strong competition. They have a few new faces but with the right teammates to help them, this team will catch a rhythm which can cause for some trouble for other teams.


Meat Missiles (Pines) – A team who played their first season and made it to the finals should definitely get some credit; this team is the definition of a true sleeper team. Captained by Mike and Trev, this team is a team who adapts and plays a competitive game from the beginning till some last inning comebacks. Definitely look out for this team to make some noise at Pines!


BDE (Cutler) – Former champions at Cutler coming back for another run at it and take out anyone who stands in their path! This is a team who came into playoffs last season as an underdog against the favorite Ballz Deep team and came on top; they have the formula for wins and they are showing it off at Cutler this season as they try and take it all again, but does anyone have what it takes to stop this team down at Cutler?


Henny Mob (Lakes) – Looking at them you may not think much, but this group of kickballers is a team who I believe could win it all if they play together and keep their minds right. They play hard but party harder. They have some of the most talented kickballers I have personally seen. They are a smart team and know how to play their cards right.


GGS (Pines) – A team that can be considered a threat at any league, with a team full of veterans and former champions that has some of Koalas best players and some of the best girls to round the bases. While going against this team won't be fun, it will definitely be interesting trying to beat them.


Slim Kicks (Lakes) – Honestly, when I looked at the standings and saw Slim Kicks at number one, I was surprised. Has Slim Kicks turned it around and rebounded to show they are a team to fear? Only time will tell but they are flexing their kickball muscles right now.


RipNDip (Miami Lakes) – Last season, this team was riddled by injuries. Most notably, they lost their captain three weeks into the season. This season they are healthy and back for redemption. They retooled and reloaded and are ready to show PSN Park who they really are.


Wolfpack (Miami Lakes) – It is not Miami Lakes kickball if Wolfpack is not near the top. Sporting some of the most experienced players in KOALA history, this team is always ready for a game. They don't back down and always bring it. The Wolfpack is now on Instagram so drop a follow. Get ready because Wolfpack is always ready.


Sit on This L (Miami Lakes) – The return? Are they back? Some of the most notable names in KOALA have come together to make one team to win it all. Will they be able to? We will just need to wait and see because from what I have seen, this may be the most competitive season yet.